Right after we booked our church, San Antonio de Padua, I immediately moved to researching wedding reception venues in Tagaytay or Silang. (Well, I may have slipped in some minutes of hotel hunting too.) This is one of the most exciting parts for me because I wanted to have a "this is it" moment–or so they say–when I do an ocular visit.
Our search began the same way I would research a vacation package or travel deal: by clicking on every item that turns up in our online search. After we prepared a shortlist of interesting venues, inquired online and assessed their rates, we settled with a handful that we would visit before we decide on "the one." Here's a quick review of the Tagaytay wedding reception venues we checked out:
1. The venue beside San Antonio de Padua. Okay forgive me for not remembering the name. It wasn't really in our plans to visit that venue. It just so happened that during our first visit to San Antonio de Padua, the church was closed. Hence, we took the opportunity to sneak a peek inside. It's a non-aircon venue, but from what I remember, the venue can be rented for PHP50,000.
2. Angelfields Nature Sanctuary. Located along Tagaytay-Sta. Road, Angelfields is a pretty and popular venue. I was excited to check out this place since all the photos I've seen of receptions held here are downright beautiful. Driving along the gravel roads of Angelfields was a picturesque experience. You'd realized why people book this huge place.
One advantage Angelfields Nature Sanctuary has is that they have packages inclusive of catering. Even better, they have indoor and outdoor options too. While I've always wanted a garden wedding, it's good to know that there's an indoor facility ready to accommodate us if a random December rain pours.
However, the fiance and I are were put off by how unaccommodating they were to us. The man who talked to us didn't even give us a tour. He just told us that we can see the venue on our drive back to the entrance. Perhaps because we didn't look the part? Should we have gone there all dressed to the nines?
3. Mahogany Place Tagaytay. In contrast to our experience at Angelfields, the woman we spoke to at Mahogany Place was very accommodating. It's a relatively new events venue place that's near Mahogany Market. When you get to the fork with the Petron gas station, take the road on the right.
We arrived at the venue while there was a wedding reception going on so we were surprised that the manager (not sure) still let us in and showed us around the place. They have a large indoor reception hall with a beautifully draped ceiling. Then there are smaller (but still pretty) outdoor venue options.
We liked a lot of things about Mahogany Place Tagaytay. One, they only hold one venue per day. Two, the venue is gated so cars are safe. Three, it has indoor and outdoor options. Four, it has ample parking space. Five, it was quietly elegant. Although we really liked it here, we decided to put off booking it until we're 100% sure. Also, until we concede to the challenge that is finding a cheaper venue.
4. Narra Hill. Narra Hill is on a league of its own. It's a special place. I already knew that this was out of our budget since it's at PHP165,00 (all inclusive, though). The view is just AMAZING. It was so serene and peaceful. If you want your wedding reception to be far away from the city, then Narra Hill is perfect for you. The reception hall they have is divinely rustic and cozy. Even better, they have gorgeous rooms that will make you feel like you're already on a honeymoon! And if any of you guys are looking for nearby accommodations, there are some sites that may be of help. 🙂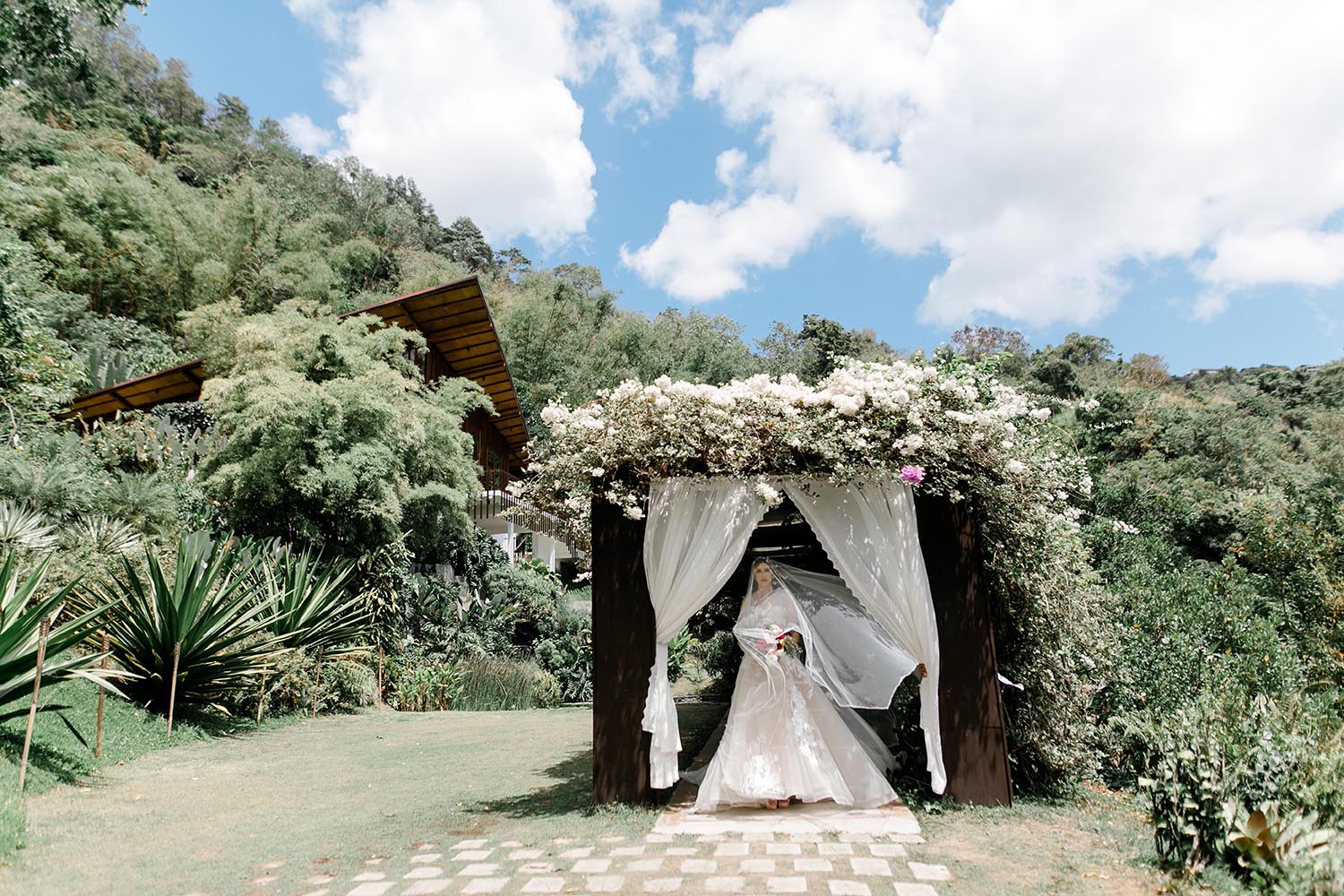 When we were speaking with the manager, I was convinced that Narra Hill was the venue for me. However, the fiance was a bit apprehensive. He pointed out that it's pricey and the fact that it's not exactly easy to reach. The road going here is a bit steep that it terrified me. But I already knew from other wedding blogs that the road can be a bit challenging, so I ensured that it was the fiance who drove here and not me. 😀 I also remember telling my fiance that I'd be scared for our friends who'll be drinking on the night of our reception. I wouldn't want them to get hurt driving on such a steep, narrow road.
We really only took the time to visit these places despite having inquired to a bunch of other Tagaytay wedding reception venues such as Ville Sommet, The Hills at Silang, The Glens Tagaytay, and Balai Taal to name a few. Watch out for my next post where I will reveal the venue I chose (hint: it's not in this blog post :p) In the meantime, I shall busy myself scouring the internet for me and my fiance's next adventure destination. 🙂
Related posts: